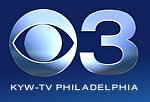 On Friday, the Philadelphia chapter of CAIR, a civil-rights Muslim advocacy group, is denouncing President Trump's executive orders dealing with immigration.
Leaders from the group held a news conference in Center City.
"Targeting refugees, building walls, banning visas for immigrants from certain countries, will do nothing to keep us safer," said Ryan Houldin [CAIR-Philadelphia Civil Rights Attorney]. "It will only make us more of a target because we are going to be playing into the narrative of extremists and terrorists who want to create a divide between different faiths and cultures."
CAIR says it will work tirelessly to resist President Trump's policy.