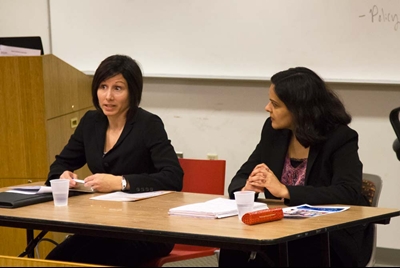 Presentation at Earle Mack School of Law (Drexel University)
Federal law allows workers to match their attire to their religious convictions with few exceptions, two experts said during a presentation at the law school on Feb. 22.
Employers can only bar workers from wearing hijab or growing long beards and strictly enforce a dress code under limited circumstances, said Natasha Abel, a trial attorney in the Philadelphia office of the Equal Employment Opportunity Commission.
"It's an employer's responsibility to accommodate the employee or show how they cannot without facing an undue hardship," Abel said.
Amara Chaudhry of the Council of American-Islamic Relations said hospitals must also make efforts to accommodate their patients' religious convictions.
One local hospital faces a complaint by a Muslim patient who objected to undergoing an emergency pelvic exam by a male health care provider, Chaudhry said.
Like other recent converts, the patient took a stricter view of the matter than many Muslims living abroad, Chaudhry said, adding that this has little bearing on the law.
From a legal viewpoint, she explained, all that matters is the religiously held belief.
"It doesn't matter if they're right or wrong (theologically)," Chaudhry said.
Misunderstandings about Islam are increasingly common in Philadelphia, which has an especially large community of converts to Islam, Chaudhry added.
The talk was sponsored by the Health Law Society, the American Constitution Society, the Labor and Employment Law Society and the Middle Eastern Law Students Association.