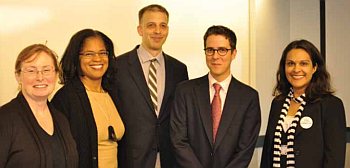 By Edward P. Kelly
Philadelphia Bar Reporter
Vol. 40, No. 12 – December 2011
Culture shock is one of the biggest obstacles facing attorneys who move from public service to private practice, a panel of attorneys said at the Nov. 9 Public Interest Section program "Career Transitions: Moving Between Private Practice and Public Service."
Panelists included Shelley R. Smith, Philadelphia city solicitor; Mary Catherine Roper, staff attorney at the ACLU of Pennsylvania; Amara Chaudhry, civil rights director for the Council on American-Islamic Relations Pennsylvania; and Geoffrey D. Bruen, an associate in the labor and employment group at Ballard Spahr LLP.
Smith returned to the city Law Department after a two-year stint at Ballard Spahr. She said that her most significant transition was not the switch from public to private sector work (and back again), but instead was being asked to become chair of the Corporate and Tax Group after a career as a litigator. Her superiors recognized that she had developed managerial skills during her time in the Law Department, and it was those managerial skills that made her a credible candidate for city solicitor to Mayor Michael Nutter. She said that you will not know where opportunities will come from or who will present them. Therefore, it is important to develop strong skills and to figure out your interests so that you are in a position to seize those opportunities when they come along.
Roper was a partner at Drinker Biddle & Reath LLP prior to joining the ACLU. She stressed that those thinking of making a switch from  private to public practice need to prepare for the eventual transition. During her time at Drinker, she did a tremendous amount of pro bono work on a wide variety of cases and also made financial preparations for the inevitable decrease in salary. In her current role, she finds lawyers are willing to work a "second job" for free in order to get the experience needed to sell themselves. She also suggested  joining a relevant board and talking to others who do different kinds of work.
Chaudhry at one time was with a law firm in Charleston, W.Va., and more recently the public defender's office in Montgomery County prior to joining CAIR. Although only with the firm for a short time, she also made sure to take on a wide variety of pro bono matters in addition to her criminal defense work. And Chaudhry may be the exception to the rule of "networking" in that all of her  jobs were obtained through cold resume sends. She also emphasized the point that you need to be willing to do the work for free before someone will pay you to do it.
Bruen served as an assistant city solicitor in Philadelphia prior to joining Ballard Spahr. He found that his experience with the city helped him to get his current position since the big firms have reduced their summer associate programs and instead are looking for experienced attorneys. Many times, the most experienced candidates are from the public interest realm.
Among the obstacles faced by the panel were the lack of a "legal community" at smaller public interest organizations, the change in one's social circle, and the culture shock whether you go to or leave a big firm.