As social media becomes a more integral part of our lives in terms of communication and expression, Muslim teens and young adults have turned to online spaces to engage with religious content. Social media for young Muslims is not a facetious interaction but bred from the alienation that many young Muslims feel in the U.S. and Europe as a result of Islamophobic environments. It is difficult to find mainstream relatable content for young Muslims; a lot of social media content is grounded in the sexualization of women, the romanticization of drug/alcohol consumption, and materialism. The values of mainstream social media are often not in line with Islamic values. Young Muslims are looking to be included in the larger online culture and be seen for their unique identities and beliefs rather than be sidelined and forgotten. To build community, American Muslims have started building their own social media spaces curated by and for young Muslims.
Ameer al-Khatahtbeh, recently featured in Forbes 30 under 30, founded and creates content for his media publication aptly named "Muslim". As well as having their own website muslim.co, they have amassed over half a million followers on Instagram where they regularly post American and international news, humorous video compilations from TikTok, opinion pieces, and visual content aimed at young Muslims. Muslim also has a weekly newsletter to share more in-depth information. The media publication highlighted in October that Rihanna's Savage X Fenty runway show featured a song that sampled from a recited hadith. The outrage that resulted from this discovery influenced Rihanna and the artist to remove the song from the show and elicited an apology from the musician-entrepreneur. This is a big win for Muslims in that we effectively used social media to organize and hold people accountable for disrespectful actions that harm our community.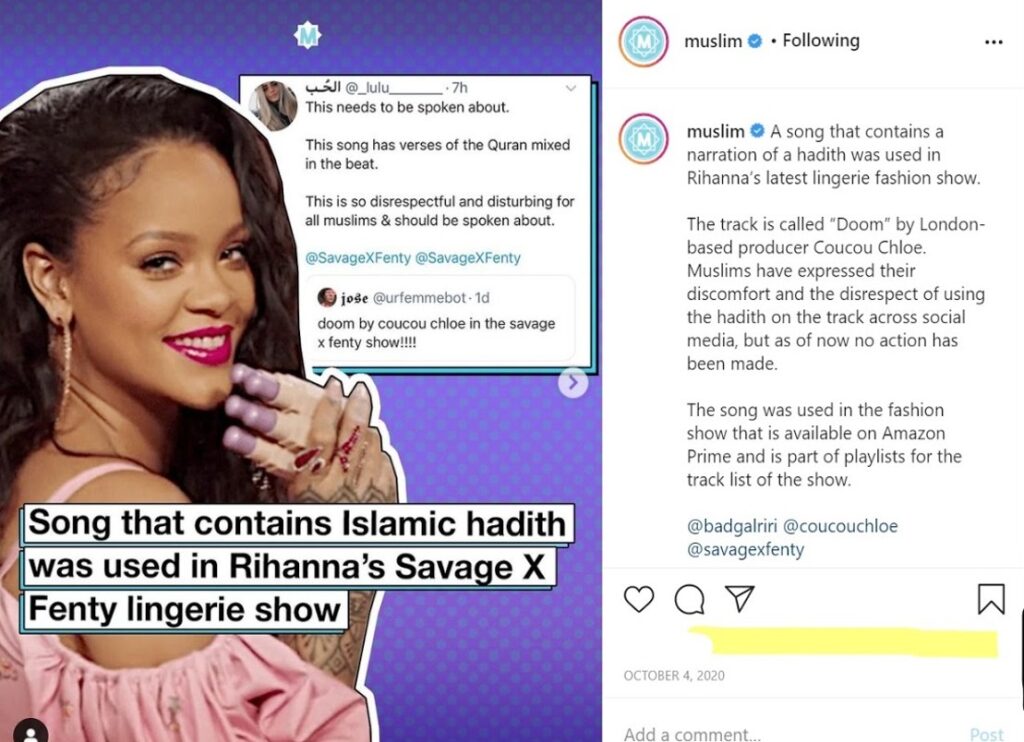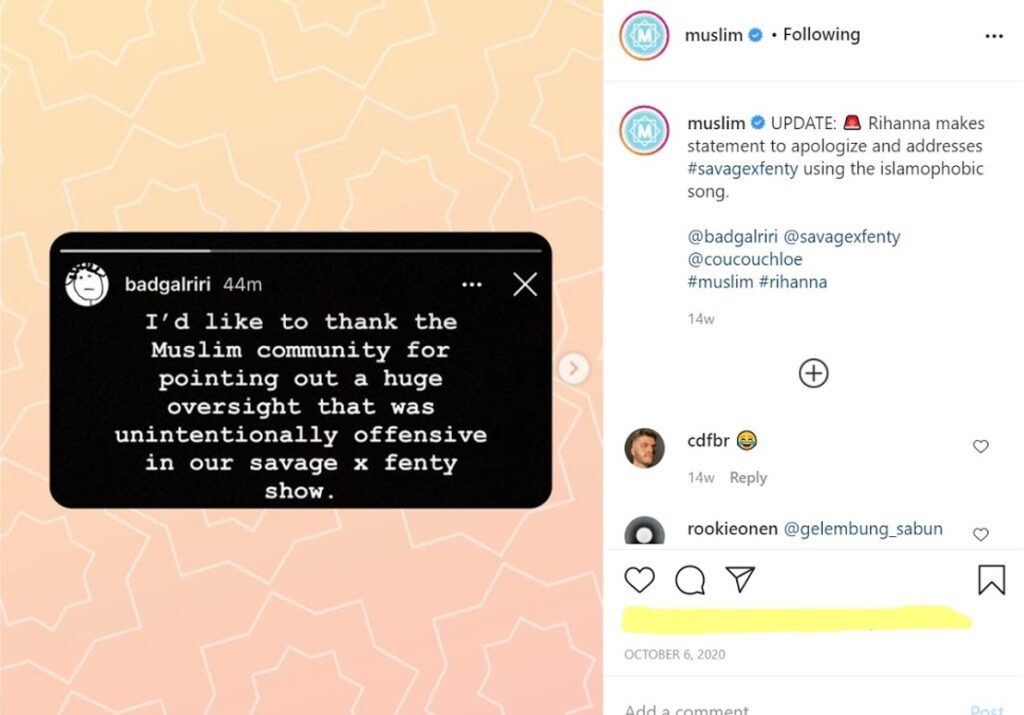 TikTok is an integral hub for people to share short videos about whatever they want. Muslims have utilized this app to spread information about current events, Islamic reminders, and funny relatable videos. Muslims share relatable videos such as the awkwardness of doing wudhu in a school bathroom with the worries of non-Muslims walking in and not understanding why you have a foot in the sink. These little things that are so integral to our religion feel much more pronounced in spaces where we are often marginalized. One of the biggest creators on the app, Zahra, currently has 2.9 million followers and shares her experiences as a hijabi and a young woman in a fun way.
In this video, she does a voice-over, which is a trendy way of making videos on TikTok, expressing her excitement when she sees another hijabi in public. Zahra is unapologetic about her religious expression and uses her platform to uplift her community. Her social media presence is a positive influence (and impression) for Muslims and non-Muslims alike.
We should be more aware of the complex relationship that our youth have with online spaces and the real possibility that it could have a positive impact on their religious identities. Islam is constantly under scrutiny from virtually all institutions and seeking an online safe haven can be a good thing to find community. Young Muslims are using the tools at their disposal to engage with one another in meaningful ways and as a broader community, it would be helpful for us to consider how the Internet impacts our engagement with each other and our religion.
Join the conversation on Facebook!
Soaad Elbahwati is a member of CAIR-Philadelphia's Advisory Board.
---
Disclaimer: Views and opinions expressed in this blog belong solely to the author and do not represent the positions of institutions, organizations, or individuals that the author may be associated with in a professional or personal capacity, unless explicitly stated.
Photo by Rodion Kutsaev on Unsplash