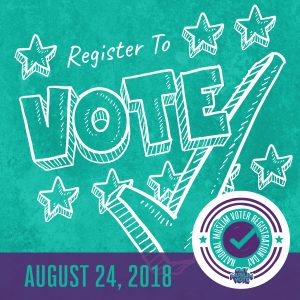 (PHILADELPHIA, PA, 8/23/18) — As part of National Muslim Voter Registration Day, a national grassroots campaign to reach and register U.S. Muslim voters, three organizations (the Philadelphia Chapter of the Council on American-Islamic Relations, Emgage Pennsylvania, and MPower Change) will tomorrow conduct a voter registration drive at the Islamic Society of Chester County in West Chester, PA.
WHAT: National Muslim Voter Registration Day Event in West Chester, PA
WHEN: August 24, 2018 – 12:30 – 2:30 PM
WHERE: Islamic Society of Chester County, 1001 Pottstown Pike, West Chester, PA 19380
CAIR-Philadelphia
 has served Pennsylvania Muslims since 2004, protecting their civil rights, enhancing understanding of Islam and establishing coalitions of justice. CAIR is the Nation's largest Muslim civil rights organization.
Emgage Pennsylvania
 seeks to educate, engage, and empower Muslim American communities through educational events, voter initiatives, and leadership development for the purpose of creating a community of equitable, knowledgeable, and motivated citizens.
MPower Change
is the largest Muslim-led social and racial justice organization in the United States.
National Muslim Voter Registration Day
 (
#NMVRD
) is a nationally-coordinated effort of grassroots Muslim organizations to reach and register thousands of Muslim voters and create awareness around our collective civic power.
#NMVRD is part of the larger #MyMuslimVote campaign, a national non-partisan campaign focused on increasing civic engagement in U.S. Muslim communities through voter registration, engagement, and mobilization efforts.
CAIR is America's largest Muslim civil liberties and advocacy organization. Its mission is to enhance understanding of Islam, protect civil rights, promote justice, and empower American Muslims.
– END –
CONTACT: CAIR-Philadelphia Executive Director Jacob Bender, 267-515-6710 (office), jbender@cair.com