Wednesday, October 30, 2019
Theme: "With Liberty and Justice For All"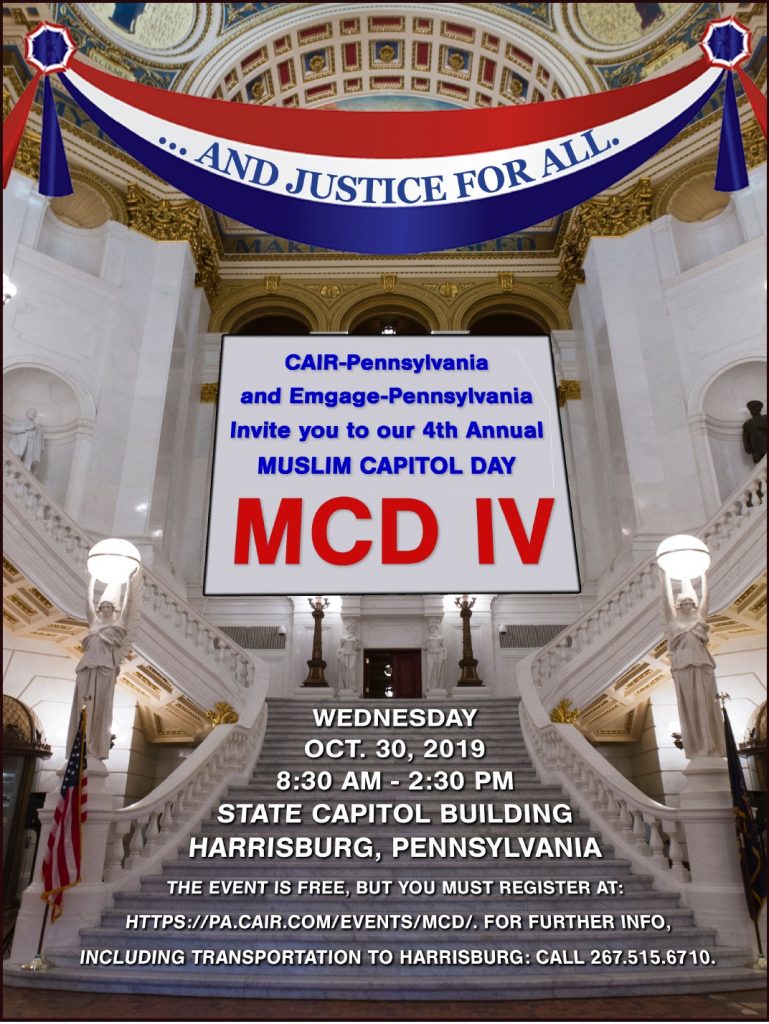 Muslim Capitol Day is jointly organized by CAIR-Philadelphia, CAIR-Pittsburgh, and Emgage Pennsylvania, and is an opportunity for Pennsylvania Muslims and their allies to:
Make a visible statement to the media and the American public that Muslims are now, and forever will be, full participants in our country's political process, and will not be intimidated into silence by the voices of intolerance
Inform Pennsylvania elected officials about the concerns of their Muslim constituents
MCD will bring dozens of Muslim leaders, community members, and students from around the state to Harrisburg. As is their constitutional right, members of the Muslim community will be meeting with their elected representatives and state officials on a range of issues and proposed legislation.
CAIR will provide talking points on the issues to all MCD participants. A bus will depart from Masjidullah (7401 Limekiln Pike, Philadelphia) at 7:00 am and will leave Harrisburg at 3:30pm. Parking is available at Masjidullah. Seating on bus is limited, please register at link above to reserve your seat.
For further information about Muslim Capitol Day, please contact: Jacob Bender, 267.515.6711, jbender@cair.com or Ahmet Tekelioglu, 617.401.5397, atekelioglu@cair.com