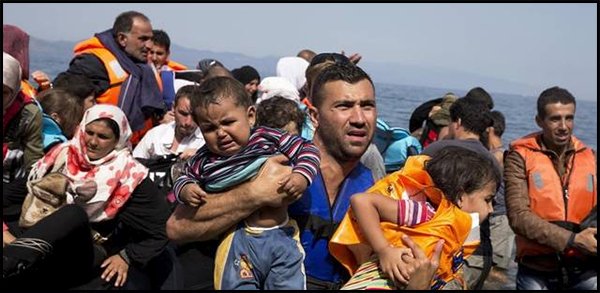 As we celebrate Labor Day and the end of the summer holiday season, we should also remember the suffering of the people of Syria, as we read in the Qur'an (9:71):
"The Believers, men and women, are protectors one of another: they enjoin what is just, and forbid what is evil: they observe regular prayers, practice regular charity, and obey Allah and His Messenger. On them will Allah pour His mercy: for Allah is Exalted in power, and wise."
According to the United Nations, the destruction of Syria is the largest humanitarian crisis in the world today, and the largest since WWII. No matter how we might wish we could turn away from the world's tragedies and pretend for just a weekend that they do not exist, Islam gently draws us back into an indelible bond with our fellow human beings.
"And We made them leaders, guiding them by Our Command, and We sent them inspiration to do good deeds, to establish regular prayers, and to practice regular charity; and they constantly served Us." (21:73)
The following numbers should shock us into action:
TOTAL KILLED IN SYRIAN CONFLICT: 220,000

TOTAL SYRIAN REFUGEES: 3,822,161

TOTAL IN NEED OF ASSISTANCE INSIDE SYRIA: 12,000,000

TOTAL INTERNALLY DISPLACED PERSONS: 7,600,000

NUMBER FLEEING SYRIA EVERY DAY: 8,000
CAIR transparently admits to policy disagreements within its ranks and across the Muslim community: while some favor a "No-Fly Zone" over Syria, others worry about an entrenched American presence in the country, remembering the disaster of the U.S. occupation of Iraq. Some see the Assad Regime as the prime source of evil, while others argue that that dubious distinction has now passed to ISIS. Still others worry about the self-serving intervention of Russia, Hezbollah, and Iran, while others remember the oppression of the Shia by Saddam Hussain.
In spite of this range of opinion, CAIR and the leadership of the American Muslim community are clear in their commitment to help the Syrian people in their most desperate hours by advocating for an increase in the number of Syrian refugees permitted to resettle in the U.S. A Press Release from CAIR National reads in part, "We urge our government to open its arms, and open its mind, and strengthen the tradition of America being a generous and open society to all those who need it."
ACTION REQUESTED: WHAT YOU CAN DO
A Statement of American Relief Coalition for Syria:
Many of us have been asking how we can help Syrian children like 5 year old Omran Daqneesh.

Well now you can.  Here's one very easy, important way: Ask your member of Congress to cosponsor the Caesar Syria Civilian Protection Act, which will place sanctions on those who perpetrate human rights violations in Syria.

The bill has passed the House Foreign Affairs Committee and has 20 cosponsors from both parties. However, it needs at least 100 cosponsors to get a vote in the House and Senate.

A group of activists have made a short website to explain the details of the Caesar Bill with an action alert. They have set up the hashtag #StandWithCaesarBill for use on social media. Please consider posting about it and getting your friends and family to take action.

Only with your support can we halt the wholesale slaughter of the Syrian people, encourage a negotiated political settlement, and hold those who perpetrate Syrian human rights abuses accountable for their crimes.

Visit rescuesyrians.com and email your representative with ONE click. Afterwards, share the link on Facebook and Twitter!

Thank you for your time and support.
WHAT TO READ