CAIR-PA Delegates Take Part in Online 6th National Muslim Congressional Advocacy Week #MuslimHillDay
CAIR-PA organized and joined virtual advocacy meetings with multiple Senators and Members of Congress from Pennsylvania and Delaware, bringing together Pennsylvania and Delaware Muslims who met virtually with elected officials and staffers as part of US Council of Muslim Organizations (USCMO)'s 6th annual "National Muslim Congressional Advocacy Week".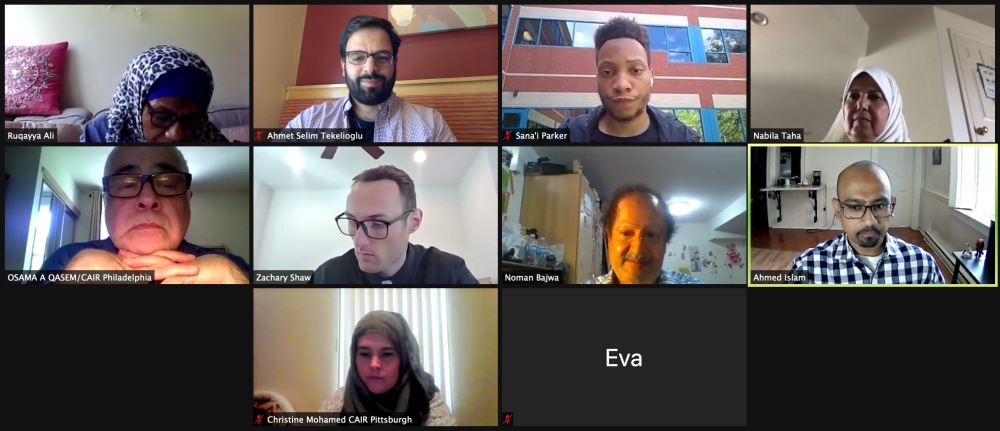 Our state delegations and activists discussed with their congressional representatives pressing issues affecting American Muslims, including the need to:
1. Support for the Defending the Human Rights of Palestinian Children and Families Living Under Israeli Military Occupation Act." (H.R. 2590) – and mark your calendars for July 10 Philly for Palestine Event
2. Support for the Uyghur Forced Labor Prevention Act (H.R.1155 / S.65): Our local Uyghur community is lifting up this video by Sr Mihrigul Tursun— where she tells her story of being interned in camps that imprison Uyghur Muslims only to escape thanks to her children holding citizenship of a third country. She had triplets and one of them died due to lack of care while she was in jail during the first few days of her arrival to China. She speaks in the first person of the horrific conditions in the camps and what humans are made to endure. Watch now.
3. Support the COINTELPRO Full Disclosure Act (H.R. 2998), and the freeing of falsely convicted Imam Jamil Al-Amin, formerly known as H. Rap Brown
4. Become an original co-sponsor of Rep. Ilhan Omar's forthcoming Combatting International Islamophobia Act.
5. Recapture of diversity visas lost Due to the Muslim, African, and COVID-19 bans by supporting the Keeping Our Promise Act (H.R. 3548).
6. Support the Senate the advancement of the House adopted For the People Act, (H.R.1 /S.1); Dream and Promise Act, (H.R. 6); NO BAN Act, (H.R. 1333 / S.1891); and George Floyd Justice in Policing Act (H.R.1280).
Last year's National Muslim Congressional Advocacy Week was postponed due to the outbreak of COVID-19 and USCMO prioritizing the safety of the more than 500 delegates who annually travel from 25 states participate in the event. Stay tuned for details on Muslim Capitol Day in Harrisburg — we are working with our allies to develop a rewarding experience in 2021.