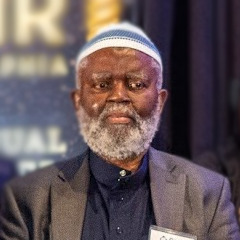 Outreach Co-Chair, CAIR-Philadelphia Executive Committee
Carlin was born and raised in the State of Delaware in 1948 and graduated from public schools there. He later graduated from undergraduate school at Temple University and the University of Pennsylvania Law School. Presently, he is engaged in the private practice of law.
Carlin converted (or reverted) to the religion of Islam over 45 years ago. He is one of the original thirteen founders of CAIR Philadelphia in 2004. He has been a member of the General Council (board of directors) of United Muslim Masjid and United Muslim Islamic Center in South Philadelphia since 1998. He is presently the president of the board. Carlin is also a member of the Board of Trustees of Center City Masjid (House of Peace and Enlightenment).
Carlin was the principal of Sister Clara Muhammad School, 1981-1984. He has also been involved in many other Islamic activities throughout the years, having served with numerous panels, seminars, workshops, etc., concerning issues involving Islam and Muslims.